IFAK vs AFAK: What's the Difference?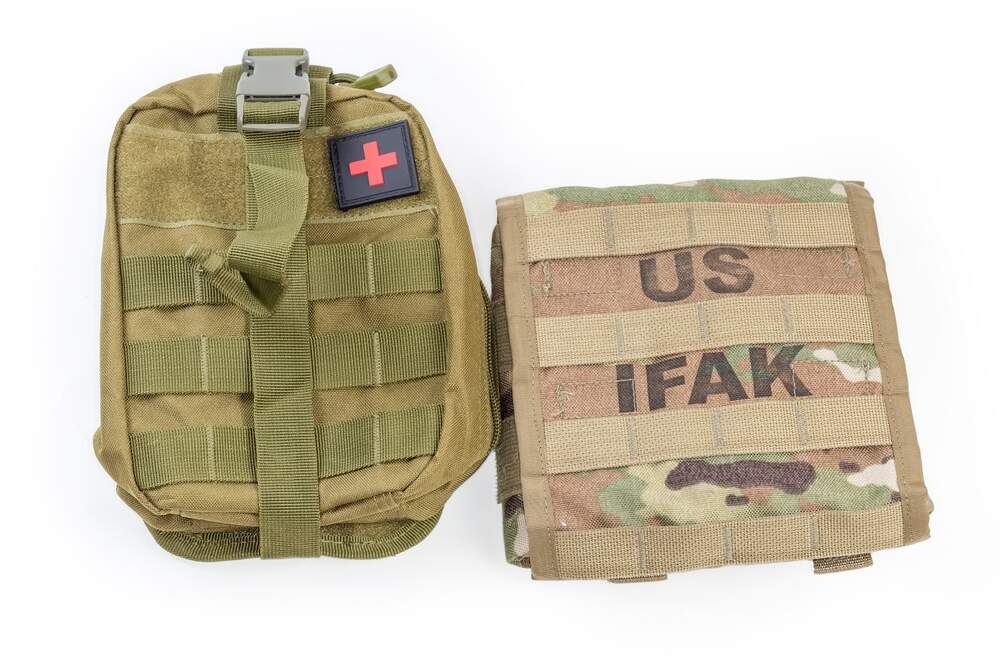 When it comes to tactical gear, there's no room for ambiguity, especially in life-threatening situations. You've probably heard the terms "IFAK" and "AFAK" thrown around in tactical circles and wondered: IFAK vs AFAK – what's the real difference? Let's unravel this mystery together.
What are IFAK and AFAK?
IFAK stands for Individual First Aid Kit. Traditionally used by military personnel, these kits have grown in popularity among civilians, especially those keen on outdoor adventures or tactical training. The IFAK medical kit is tailored to provide life-saving medical supplies to treat injuries on the battlefield or in emergency situations.
On the other hand, AFAK stands for Ankle First Aid Kit. As the name suggests, it's a compact first aid kit designed to be worn around the ankle. An AFAK kit offers essential first aid supplies that can be accessed rapidly.
IFAK vs AFAK: The Main Differences
Portability & Size:

The most obvious difference when comparing afak vs ifak is the size and manner of carrying. An AFAK is compact, designed to be worn on the ankle, making it easily accessible. The IFAK, although portable, is typically larger and is worn on a belt or MOLLE system.

Content Volume:

Due to the size difference, IFAKs generally house more items than AFAKs. However, both kits emphasize select contents for dealing with severe bleeding and addressing airway and respiratory issues.

Intended Use:

IFAKs are designed for more intensive injuries, suitable for battlefield conditions or severe trauma. AFAKs, while robust, are intended for rapid response to more common, less life-threatening injuries.
Essential Contents in IFAK and AFAK
While both kits aim to address immediate medical concerns, you can stock them with specific items tailored for their intended use. Some commonly found items include:
NAR Emergency Trauma Dressing:

Both kits might include trauma dressing. The NAR emergency trauma dressing 4 flat is particularly popular for its effectiveness and compact nature.

Rusch Latex Free Robertazzi 28FR Naso Airway:

This tool is crucial for addressing airway and respiratory issues, ensuring the injured can breathe.

Gauze 4.5" x 4.1 Yards:

This is a versatile tool. The NAR S rolled gauze 4.5 x 4.1 yards, for instance, can be used for wound packing, dressing, and more.

Chest Seals:

Devices like the Hyfin Vent compact chest seal twin pack are essential for managing chest wounds, preventing air from entering the chest cavity.

Gloves:

For protection, kits often include gloves, like the Triton Grip SE nitrile gloves (large).

Survival Rescue Blanket:

A compact survival rescue blanket can prevent hypothermia in injured individuals, reflecting back their body heat.

5.5 EMT Shears:

A must-have in any first aid kit. These shears can cut through fabric, making wound access easier.

Pouches:

The IFAK often features the 600 D compact IFAK ripaway pouch, making it durable and easily accessible.

Additional Items:

Depending on the kit's focus – like a kit for LEO, MIL, or standard use – you might find items like armor systems, rolled gauze 4.5, and more.
Why is it Important to Know the Difference?
Failing to prepare is preparing to fail. Understanding the distinction between IFAK vs AFAK medical kit and having the right tools for the job ensures that you're equipped for the right emergencies. Whether you're in the line of duty, hiking, or simply want to be prepared, knowing what each kit offers (and its limitations) is crucial.
The Best IFAK is our Rip-Away Med Pouch
We might be biased, but when we are talking about different options for on the ground, emergency medical supplies our IFAK Med Pouch should get a shoutout. 
Our sturdy and expansive Highland Tactical's RIP-AWAY MED POUCH is your ideal companion in unpredictable environments, designed with urgency and adaptability in mind. Acting as a top-notch individual first aid kit (IFAK), it ensures rapid access to medical essentials. Its seamless integration with all packs via MOLLE straps allows quick attachment and hand-free convenience. In dire moments, the pouch can be swiftly detached, thanks to its hook and loop design. 
Plus, its front offers a Hook & Loop Laser-Cut MOLLE platform for patches or extra gear, and its tri-fold storage compartments with elastic bands and mesh pockets make organizing and identifying crucial medical tools a breeze. 
Customize and stock your IFAK to ready yourself for any scenario with this tactical med pack. 
A Note on Customization
Both IFAK and AFAK kits are customizable! This means you can tailor the contents based on your specific needs, ensuring you have the right tools when you need them the most. 
Not sure what you should have in your own med pack/IFAX kit? Check out our guide on must have IFAX items. 
Wrapping Up
When deciding between an IFAK and an AFAK, consider your specific needs, the situations you're likely to encounter, and the amount of gear you're comfortable carrying.
Remember, whether you choose an IFAK medical kit or an AFAK kit, the goal is to be prepared. Equip yourself with the right tools, know how to use them, and you'll be ready for whatever challenges come your way. Stay safe, stay prepared, and always choose quality with Highland Tactical.
Check out our Rip Away Med Pack to provide a quick and efficient IFAX first aid medical bag for any application or environment
Review by Juan C. on 25 Aug 2022 
Verified Buyer/5.0 star rating
Compact medic pack.Well made, with good compartments, it does its job, it is a great storage first aid... I believe you could have it always attached in your EDC backpack.
Review by Jerauld S. on 13 Nov 2021
Verified Buyer/5.0 star rating
Excellent products. Have already proven themselves in the field. Perfect for my needs. Thank you for recognizing first responders along with the military. Keep up the great work.
Review by David B. on 8 Apr 2022 
Verified Buyer/5.0 star rating
My wife and I are still building our standard med kit. But thus far it is great. Will be perfect on vacations when we go hiking in national parks too.
---